Who are Partners of N0CO2
21st Jul 2022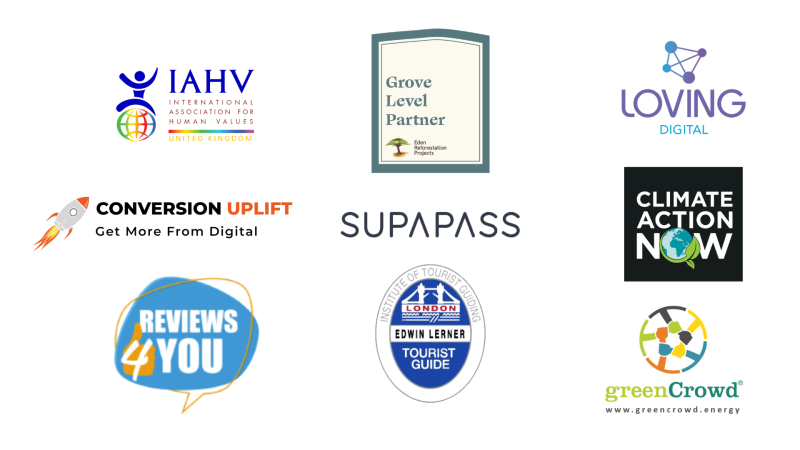 Details of some of our current partners and supporters are below. Would you like to join us? Email us at charlesa@savingourplanet.net
International Association for Human Values (IAHV)
Cultivating Humanity – Transforming Lives.
IAHV has branches in 25 countries, projects in over 50 countries, and volunteers in over 100 countries.
IAHV's projects transform the lives of people affected by disasters, conflict, trauma and stress, and children who would not otherwise be in education. https://www.iahv.org.uk/
Climate Action Now - Restore. Reduce. Reach Out
Climate Action Now is a not-for-profit project set up in the UK by IAHV to combat effects of Climate Change https://www.iahv.org.uk/project/climate-action-now/
Eden Reforestation Projects
Eden Reforestation Projects is pleased to support N0CO2 with your amazing work to promote planting trees to help stop global warming.
Operating across 9 Countries and hundreds of sites, Eden expects during 2022 to complete planting our first 1 billion trees. Today we are planting around 1 million trees a day. Eden has pledged to plant 50 billion trees by 2030.
Eden is focused on alleviating poverty through forest restoration. By providing economic incentives and simple planting techniques to support local communities in restoring their local environment and economy, our success and the communities' success are inextricably entwined. Eden Reforestation Projects, London edenprojects.org
Loving Social Media
"World Leaders today are not doing enough to save our planet. However, working with N0CO2 I feel I've been given the opportunity to make a difference. Now it's so easy for businesses and people to go Net Zero. And to show others what can be done." Garry Kousoulou, Founder Loving Social Media.
Based in London, Loving Social Media manage Social and Media for N0CO2 and others. We manage your digital marketing so you don't have to worry: https://lovingsocialmedia.com
Loving Social is now Net Zero by planting 10,000 trees. Garry also talks to businesses about how they too can reduce their carbon footprint by planting trees.
Edwin Lerner - Tour Guide
"As a Tour Guide, like the rest of the Travel Industry, I'm aware we're contributing to CO2 emissions. As one of the first donors to n0co2.org I'm pleased to have taken action to remove my CO2 emissions – and more." Edwin Lerner
Eddie is a Blue Badge Tour Guide who has led groups from all over the world around Britain and Ireland. Specialities are literary themed tours, the Beatles and theatre groups, and public transport/walking tours of London which makes tours environmentally friendly! https://edwinlerner.co.uk
Eddie has removed all his personal Carbon Footprint by planting over 2,000 trees. Eddie is also removing more CO2 by planting more trees each year.
SUPΛPΛSS
SupaPass makes branded all-in-one content apps for businesses and influencers. SupaPass is a low carbon business and is supporting N0CO2 to inspire other businesses to become Carbon Neutral too.
In addition, as an affiliate partner of SupaPass, N0CO2 will donate and plant trees for businesses that choose to use SupaPass from this introduction (930 trees for every £1k spend). Build your own subscription app today: https://SupaPass.com
greenCrowd
Bringing project developers, service providers and funders together, demystifying the financing process for small-scale renewables. See www.greencrowd.energy/
greenCrowd has committed to plant 1,750 trees for every renewable project it completes.
Reviews4you
By using carefully crafted, tailor made responses with a twist and by analysing guests reviews, Reviews4you helps hotels to increase their direct bookings, reduce costs and generate sales and revenue. Founder Joanne Green is a donor to N0CO2. Joanne has also committed to plant trees for each client she signs up for her business. https://reviews4you.com
Conversion Uplift
"I want my business to be a leader in stopping global warming. We're planting trees to remove our Carbon Footprint and much more. I see every day the improvements where businesses optimise their websites. I can see also what's possible if businesses take the lead and cut and remove their Carbon Footprint too." Neal Cole, Founder, Conversion Uplift.
Conversion Uplift gets great reviews for its work on website performance measurement, usability research and conversion rate optimisation to improve conversions, and increase revenues from digital marketing. See https://www.conversion-uplift.co.uk
Conversion Uplift and its Founder Neal Cole are removing residual CO2e emissions of 9.5 tonnes a year by planting 2,384 trees with n0co2.org And they're removing a further 28 tonnes of CO2e a year by planting 6,974 more trees!
One Tree for One Meeting
Another business supporter has committed to plant a tree for every client meeting they attend: face-to-face or on Zoom.
Grantham College
Grantham Lincolnshire. Saving Our Planet ran 4 Workshops at the College in March 2018. In return, the College donated £250 to help us get established