100 Days After COP26
What's been achieved by 22 February 2022?
24th Feb 2022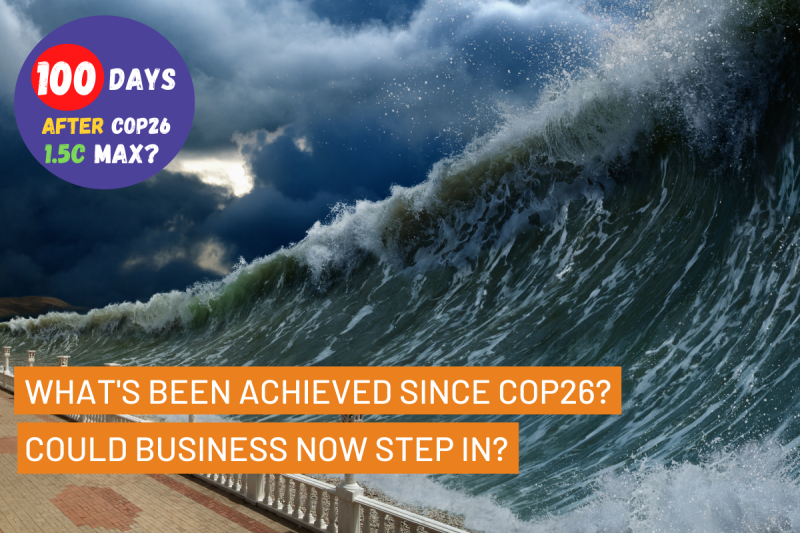 COP26 made just a Small Step. Much was kicked down the road to COP27 in Egypt in November 2022 in Egypt.
It's "time to go into emergency mode" said António Guterres, UN Secretary-General about the outcome of COP26. "We are in the fight of our lives."
Is this what we see? Sadly no.
Instead, we need to take URGENT action:
💥 To cut use of fossil fuels
💥 To stop deforestation
💥 To plant a trillion more trees
💥 It's up to us to take action ourselves
The key aim of COP26 was to keep 1.5 degrees within reach. Instead, World Policies and Actions put us on track today for between 2C and 3.6C of global warming according to Climate Action Tracker.
The UK Climate Change Committee is to focus on Business - and so are we.
✅ "The lion's share of progress will be made by the private sector, led by Government," says CCC chief executive Chris Stark in a blog Post.
✅ Key now is for businesses to go Net Zero. And for Consumers to do their bit – by buying green and demanding that the businesses they buy from go green too.
We can help both:
✅ n0co2 helps businesses to cut and remove their CO2 emissions
✅ We also make it easy for people to take action by planting trees. Plant enough trees and you can remove all your carbon footprint!
Call me to find out how we can help your business 07803 544689
RESOURCES
UK Climate Change Committee Chief Executive Chris Stark Posts about focuses on "doubling down on climate delivery in 2022" https://www.theccc.org.uk/2022/01/12/doubling-down-on-climate-delivery-in-2022/
Climate Action Tracker: https://climateactiontracker.org
Climate Change Executive Secretary, Patricia Espinosa, outlined four key achievements made at this month's UN Climate Change Conference COP26 in Glasgow, which represent "significant progress" in global efforts to tackle climate change: https://unfccc.int/news/4-key-achievements-of-cop26
What the UK Government needs to do. COP26 President Alok Sharma: "Tackling the climate crisis must be a whole government effort" https://www.theguardian.com/environment/2021/dec/29/alok-sharma-cop26-cannot-be-bunch-of-meaningless-promises